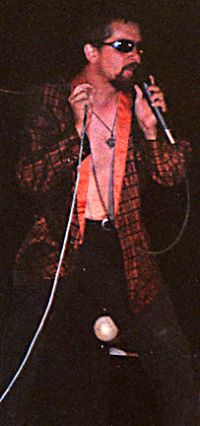 The Importance of Being Fucked Up
Scene Three
THE ROCK STAR So then I knew I had to go get famous. Rich and famous, don't ya know. I saw the window of opportunity before me, and I jumped right fucking through it. My eyes were wide open, you know, I saw it, I knew what it would do to me, I could feel its gravity from several years away. And I knew this was not a reversible decision. I knew once I leapt, once I attained the level of rich and famous, there was no going back to the old me, there was going back to poor and infamous, oh no. And still I leapt. I leapt with eyes wide open. I knew what it was going to do to me. I knew how it was going to change me. How it was going to make me something less human. How it was going to turn me into some kind of blisteringly weird icon floating in the mass mediasphere. I knew it! My eyes, man, my eyes, they were wide fucking open! I couldn't take my eyes off that window! That was the prize, god damn it, the reason I had spent all those years struggling, pretending to like this business of being alive, pretending to like these people who were equally poor and equally infamous. I knew I had spent all those years struggling and clawing to keep some sense of integrity about me so that in the end, when the window finally opened and I became transformed, I would be able to point to those days and say, "HEY, I EARNED THIS!" "HEY, MAN, I DESERVE THIS!" "OVERNIGHT SUCCESS DOESN'T HAPPEN OVERNIGHT! I was there, man, I was in the trenches right next to you, I was working, I was toiling, I was slaving, so that WHEN THE WINDOW OPENED, I would be PREPARED TO LEAP." How many times do I have to tell you, man? My eyes were wide fucking open! I knew I could MAKE myself, I knew I could weather the transformation, I knew that I could keep my senses steady and my wits about me as the riches and the fame transformed me. You didn't see me whine about the loss of all my privacy, you didn't see me complain about the delicate struggle of being a STAR, I didn't turn to hard drugs in order to BLOCK OUT the experience, man, I WANTED IT! I rode it like a god damn roller coaster, like a mother fucking rocket ride to the moon, man! And I'll tell you something. I'll tell you something. I will tell you a little something about rich and famous. There was once a time in my life where I had to sit through grueling meetings about nothing important, sit there with my coworkers and my bosses, fellow wage slaves in the trenches. There was a time when I was SOOOOOOOOLLLLD out, baby. I'd get up every morning when the alarm clock went off, and search for my integrity next to my wallet on the end table, and I'd sit down in my cubicle, man, wearing my shirt and tie, taking notes, hoping to climb the fucking ladder, man, there was a time I knew how to use Microsoft Excel. (sit back and pause for a moment) And now, man. Now I'm rich and famous. And I'm happy all the fucking time. Of course to do it, they had to jam a straw up my nose and suck my soul out of my body, but I consider that to be just another learning experience. It's all black and white, man, it really is. Once you get what you want, or once you get what you think you want, everyone you used to know is going to hate your sorry ass. And I'm going to tell you what, man, this is not such a bad thing. Really. You get yourself rich and famous, man, those people are going to start to be liabilities. People with no vision will drag you down. People who don't respect the creativity at your disposal... those people are going to become real downers. And you know, they'll say to you, just as you leap toward the window of opportunity, "Hey, don't forget me when you're famous!" You don't have to forget anybody, but that doesn't mean you have to talk to 'em either. Hey, hey, hey, hey, hey... it's COOL, man. I'm joking! (laughs) (totally straight face) All right, look. I gave up everything I ever had in order to go for the big fat IPO in the sky, I thought it would be cool if I, ME, SCOTTO, was highly valued in the marketplace. I figured that's a level of personal validation I think I could really live with. And I'll tell you what: I wasn't wrong. I can live with it. I can totally fucking live with it. I haven't fucking changed, either. I was always an enormous asshole. Some things never change. (SOUND CUE: EXTREMELY LOUD BURST OF MUSIC)
(COSTUME CHANGE: Scotto removes clothing altogether.)
(SET CHANGE: Bring table on CS, move chair to table. On table: letter, bowl, box of SBF, spoon, lighter. Draped over chair: shirt, suit jacket.)
(SOUND CUE: BRING UP THE SOUND OF A TICKING CLOCK AS SCOTTO WINDS UP COLLAPSED, HUDDLED IN THE FETAL POSITION.) NARRATOR (voiceover):
Observe the Scotto in his native environment, a bald stage pretending to be asleep. In just a few short minutes, the alarm will go off, and Scotto will rise for work. He'll get up, put some clothes on, stagger to the breakfast table and fix himself a bowl of Strange Blue Fluid for breakfast. While eating, he'll notice a letter on the table, left for him by his wife of eight years, Miranda. The letter will tell him in no uncertain terms that Miranda is abandoning him, taking their infant son Marcus and heading for Massachusetts. The letter will tell him that she wants no contact with him any longer. The letter will tell him that she has had all she can take of his shiftless, dreamless personality. He will be informed that he is a lousy provider, an awful father, a terrible lover, a cold, dark-hearted friend. He will be severely reprimanded one last time for choosing not to take that job at Price Waterhouse, and for all the marijuana he smokes. She has cleaned out their joint savings account, taken the Volvo and all the CDs, and will not be sending him a card for Christmas. Scotto will be especially jolted by this news as he will be coming from a fantastic dream in which Miranda asked him if she could bring another woman into their bed, and the woman turned out to be his old childhood sweetheart, Lisa, whom he never fucked, and has always wanted to ever since. (SOUND CUE: THE ALARM GOES OFF. DEAD SILENCE. SCOTTO STAGGERS TO HIS FEET, PUTS HIS CLOTHES BACK ON, STAGGERS TO THE TABLE, DIPS HIS BOWL INTO THE BUCKET, BEGINS EATING. NOTICES LETTER, READS IT. LONG LONG SILENCE AS HE DIGESTS THE NEWS. HE FINISHES GETTING INTO HIS SUIT AND TIE, CAREFULLY SETS THE LETTER ON FIRE, AS IT BURNS HE DIPS IT IN THE BLUE VOMIT AND LEAVES IT THERE. COMES CENTER STAGE, TO THE MICROPHONE.) SCOTTO:
This is what Miranda's letter said to me. don't attack me. don't hurl accusations. don't take me for granted. don't exclude me. don't shout. don't push me. don't call me late late at night. don't complain. don't move. don't take what you can get from me. don't ignore me. don't stifle me. don't eat my life. don't steal my creativity. don't keep quiet. don't make me do all the work. don't swallow me whole. don't leave me. don't take that tone with me. don't suffocate me. don't presume you understand me. don't shut me out. don't react. don't enjoy your time without me. don't prioritize other things before me. don't lose me. don't leave me. don't chastise me. don't tell me i'm wrong. don't point out my flaws. don't assume anything. don't take me for granted. don't scream at me. don't slam doors. don't laugh at our situation. don't touch me. don't let go. don't breathe a sigh of relief. don't waste your time. don't fantasize about how it should have been. don't make a mistake. don't apologize. don't just sit there. don't expect any sympathy. don't give me any shit. don't argue with me. don't pray. don't condescend to me. don't take me for granted. don't talk to me about that right now. don't accept what you've been given. don't cry. don't tell me what to do. don't stare directly into the sun, and for god's sake, don't look at me like that. don't leave me. don't talk to me. go away, don't leave me. one hook here, one hook there, don't stop pulling til you've torn me completely apart. don't take the blame. don't blame me. don't speak unless you're spoken to, don't sing unless you're sung to, don't keep quiet, don't tell me what i don't want to hear. don't remind me. don't forget. don't let me kill myself. don't let me float away. don't let go of my hand. don't help me, i can do it alone. go away, don't leave me. don't exclude me. don't come near me. don't take without asking. don't wonder. don't pause. don't stop. don't stop. don't leave, and don't stop. it doesn't matter if i love you. don't compromise. don't quit. don't give up. you give up too easily. don't give up. how dare you. don't take no for an answer. don't fight me. make me happy. don't leave me. make me feel better. don't confront me. don't invade my personal space. why are you always so quiet? don't make me do all the work. don't take me for granted. don't leave me. do not. singing precious, overlooking the years, there's a storm coming, aye, there's a storm coming. thank you for watching my show. good night.